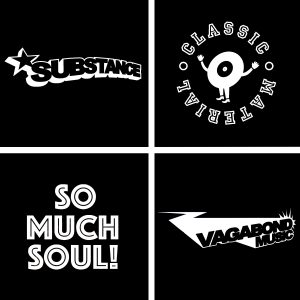 For over 10 years, Substance brought a mix of international Hip Hop talent, world class DJs and live improvisation to venues in the UK's second city, Birmingham. During those years the Substance stage played host to the likes of Grand Master Flash, DJ Premier, KRS One, Masta Ace, Jeru the Damaja, Souls of Mischief, The Pharcyde, DJ Cash Money, Maseo of De La Soul, TY, Roots Manuva, Blak Twang, Soweto Kinch, Waajeed and many others, attracting crowds of up to 1700 to witness the night's mix of renowned guests and local live talent.
At its peak, the night was among the largest Hip Hop club nights in the UK. In later years, Vagabond Music, a London counterpart to Substance was launched in collaboration with DJ Vadim's Jazz Fudge label.
Celebrating 30+ years of recorded rap music through a series of events, exhibitions, mixtape releases and more, Classic Material is a London based collective of DJs, music makers, designers, photographers and more founded by Chris Read and Nick Armitage.
Classic Material projects have included club nights with guests including Andy Smith (Portishead), Ollie Teeba (The Herbaliser), DJ Format and many others, two capsule T-Shirt ranges in collaboration with FootPatrol and renowned UK street style photographer Normski, and a Pop-Up store in London's Soho.
In 2023 Classic Material was resurrected in celebration of HIPHOP50. Collaborations included crate digger's journal Wax Poetics and Apple Music.
So Much Soul! started life as a London club night showcasing contemporary and classic Funk & Soul, promoted by resident DJs Chris Read and Nick Armitage. The night's first home was London nightlife institution The Social, ultimately relocating to The Alibi in Dalston. Guests at the night have included Freestyle Records' Randa Khamis and New York's DJ Center. The So Much Soul! name was later applied to the 'So Much Soul Players', a loose collective of musicians put together for Chris' 2014 single 'Magic is Gone', featuring Speedometer front man Myles Sanko. In 2021 the group reformed as a duo to record a popular Hammond Funk cover version of Pharrell's ubiquitous Pop-Soul hit 'Happy'. The name was also applied to Chris' 'Funky Drummer' mixtape series. For 5 years So Much Soul compiled the Contemporary Funk & Soul playlist for streaming service 22Tracks.