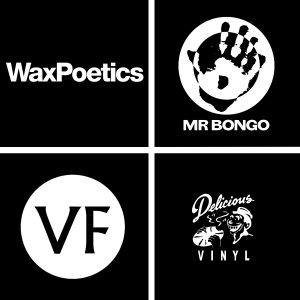 With a mixtape discography extending to over 125 releases, Chris has amassed over 125 Mixcloud chart #1s, earning him 35,000 followers on the platform. Making regular appearances in the site's end of year Top 100 DJs list and Top 100 DJ mixes list, best placing at #7, one year saw Chris hold down 3 of the 100 places.
Chis has produced commissioned mixtapes for a range of well regarded labels and brands including Delicious Vinyl, Mr Bongo, and Adidas Originals. Guest mixes for magazines and online outlets include Wax Poetics, Bonafide Magazine, Spine Magazine, OkayAfrica and WhoSampled among others. The most played mix from Chris' popular Wax Poetics series has seen more than 1.5 million streams.
Chris has also released six mix albums for the BBE label including a double album celebrating the label's 15th Anniversary and the critically acclaimed 'Latin Concrete', selected as 'Album of the Week' by UK broadsheet newspaper The Independent.
Chris' 2007 mixtape 'The Diary' is widely considered a classic of its genre – the 800 track Hip Hop opus has been featured on radio broadcasts in over 30 countries and enjoyed high praise from notable scene DJs:
DJ REACTIONS:
"Great! I couldn't take it out of the CD player. I just had to hear what was coming next!"
(ANDY SMITH – Portishead)
"A tour de force"
(DJ FOOD – Ninja Tune)
"So deep … Incredible stuff"
(DJ YODA – Genuine Records)
"Serious DJs and collectors will swear Chris has been raiding their collection! A mixtape king no question."
(OLLIE TEEBA – Herbaliser)
"Megamixing at its finest… Original and essential!"
(DJ PLUS ONE – The Scratch Perverts)
"An amazing piece of work!"
(MR THING – Former World DMC Team Champion)
"Bloody great!"
(DJ FORMAT – Genuine Records)
"This mix simply kicks ASS"
(FREDDY FRESH – Author, The Rap Records)
"My new favorite DJ"
(MICK BOOGIE)

PRESS REVIEWS:
"A DJ / Producer / Selector supreme"
(OKAYPLAYER)
"This blew me away… a piece of genius work" 
(MUSIC IS MY SANCTUARY)
"Phenomenal"
(DROWNED IN SOUND)
"A Masterpiece"
(THE GOOD VIBE)
"A true masterpiece. An amazing, amazing accomplishment"
(LAZE)
"Unquestionably cool and vital"
(75 OR LESS)
"Truly amazing. Effortlessly fresh"
(WEIGHT OF A NICKEL)
"Epic … A Masterpiece"
(CROOKED TONGUES)