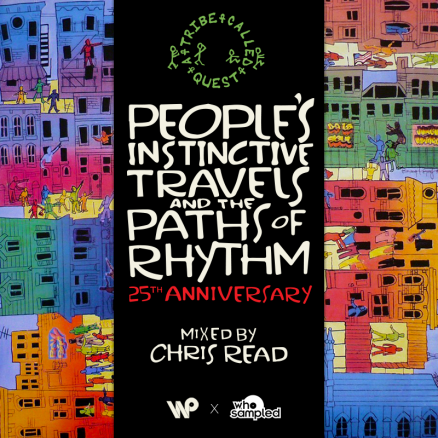 Available Now Mixcloud Soundcloud
A Tribe Called Quest 'People's Instinctive Travels' 25th Anniversary Mixtape
Release date:

2015-04-17

Label:

WhoSampled x Wax Poetics
Guest mix for WhoSampled x Wax Poetics in celebration of the 25th Anniversary of the release of A Tribe Called Quest's seminal debut LP 'People's Instinctive Travels'. Blurb from WhoSampled below:
"Today marks the 25th Anniversary of A Tribe Called Quest's seminal debut album 'People's Instinctive Travels and the Paths of Rhythm'. Following in the footsteps of De La Soul's genre defining '3 Feet High and Rising' released one year prior, 'Instinctive Travels' was notable not only for its honest and in places humorous lyrical content, but also for its eclectic palette of sample material. In an era when James Brown staples were still go to sources for many producers Tribe, like De La before them, ventured into the unknown, drawing on material from the likes of Billy Brooks, Eugene McDaniels and Luther Ingram to create a melting pot of jazz, soul, funk and rock. Together with output from fellow Native Tongues the Jungle Brothers and others, it was evident that these albums were more than mere curios – a movement had been born.
In celebration of the anniversary we team up once again with Wax Poetics to present an exclusive mixtape mixed by WhoSampled's Chris Read comprising album cuts, alternate versions, b sides, interview snippets and of course original sample material."
Track list and sample credits here.
Mixcloud Hip Hop chart: #1 / Mixcloud Funk chart #1 / Mixcloud Jazz chart: #1
A Tribe Called Quest 'People's Instinctive Travels' 25th Anniversary Mixtape mixed by Chris Read by Whosampled on Mixcloud