Chris Read feat Phill Most Chill – 'Rap Tradition' 7″ Single
Release date:

2013-09-02

Label:

Breakin Bread

Catalog #:

BNB081
From the Breakin Bread press release:
" 'Rap Tradition' is not only a title but a mission statement as guest vocalist Phill Most leads the fast-rap renaissance. Fondly recalling an era of innovation and the competitive spirit of the battle, the track is a lyrical ode the genre's traditions. Sitting atop a pounding drum track which is equal parts crisp 2013 production and homage to the classic beat makers of the late '80s, deft wordplay weaves in and out of punchy drums, horn stabs, hints of hammond and a captivating bass groove. With a nod to '80s greats 45 King and Marley Marl, it's a track which follows in the footsteps of those playfully keeping their tradition alive: NuMark, DJ Format, Cut Chemist et al."
"The B Side of this fast rap throwback picks up where the A Side left off. Harking back to a day when remixes really were remixes, all musical elements of the original are abandoned in favour of a stylistically similar but entirely new instrumental. This time round a rolling drum groove underpins a memorable bass line and catchy horns offering an alternative soundtrack for the vocals of the Soul Man's traditionalist ode. It's no less dancefloor friendly than its A Side counterpart and ensures any lovers of the original version get two for the price of one!"
Available on vinyl & digital.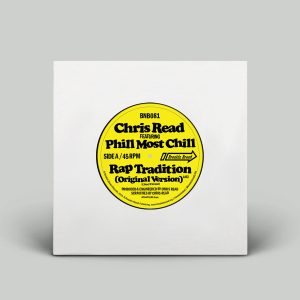 Tracklist:
1. Rap Tradition (Original Version)
2. Rap Tradition (Rap Renaissance Remix)
3. Rap Tradition (Original Instrumental)
4. Rap Tradition (Rap Renaissance Instrumental)