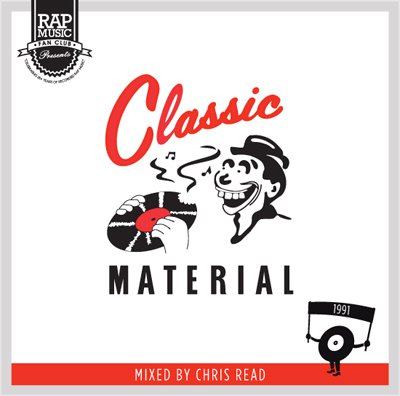 Available Now Mixcloud Direct Download
'Classic Material Edition #5 (1991)' Mixtape
Release date:

2011-03-01

Label:

Classic Material
Edition #5 of our monthly Classic Material series pays tribute to the hip hop of 1991, the year which really signalled the start of what many consider to be a golden period for club friendly credible hip hop releases. Aside from numerous memorable LP releases, 1991 was above all a year of anthems – Tribe's 'Scenario', Nice and Smooth's 'Hip Hop Junkies', Showbiz and AG's 'Party Groove' and many other club records with catchy hooks saw releases during the year. 1991 was also a solid year for long players with stand out debut LPs from Black Sheep and Main Source amongst others. Debut LPs from Del the Funkee Homosapien and Cypress Hill both broke preconceptions about the West Coast sound in very different ways.
The Classic Material 1991 party takes place at the City Arts and Music Project on Saturday 19th March 2011 with special guest Ollie Teeba (Herbaliser).
Classic Material Edition#5 (1991) by Chris Read (Musicofsubstance) on Mixcloud
You can also download bonus tracks originally featured on the Classic Material Edition #5 Mix CD. The CDs have long since sold out but you can now get the bonus tracks via Bandcamp. Featured tracks include a Chris Read remix of a Nice & Smooth classic and a bonus megamix of popular cuts released in '91.