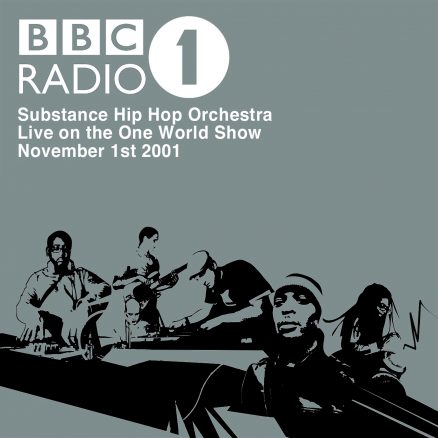 Available Now Soundcloud Mixcloud
Substance Hip Hop Orchestra Live on BBC Radio 1
Release date:

2001-11-01

Label:

BBC Radio 1
This performance was recorded live at the Custard Factory in Birmingham as part of BBC Radio 1's 'One Live in Birmingham' event back in 2001. Performing alongside the likes of Basement Jaxx and others, we were the only band from Birmingham to feature on the broadcast. It's not without a few imperfections, but I'm really glad we have this recording as it captures the vibe of our monthly live sessions from the time well.
The band, an extended line up of the Substance house band, was made up as follows:
VOCALS: Mad Flow
TURNTABLES & SAMPLER: Chris Read
TURNTABLES: Roc-1
DRUMS: Ed Lawes
BASS: Ian Harper
PERCUSSION: Magoo Robertson
GUITAR: Frank Moon
BACKING VOCALS & FLUTE: Alison Symmons
GUEST VOCALS: Mighty Elements.
Tracklist:
1. It's the Who? (A Message… Version)
2. Snakes in the Pack featuring The Mighty Elements
3. A Rhythmatic Explosion
4. Corns
5. Freestyle