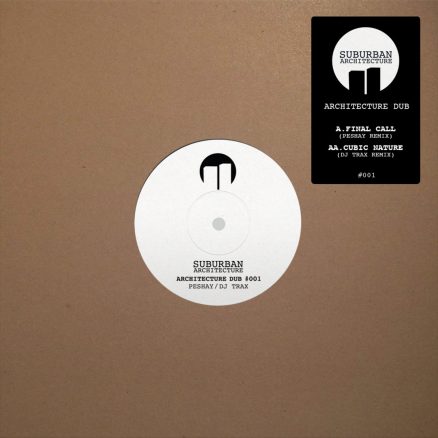 Available now Bandcamp
Suburban Architecture 'Architecture Dub #001' (Peshay / DJ Trax)
Release date:

2023-01-13

Label:

Suburban Architecture

Catalog #:

DUBARC001
Suburban Architecture are pleased to announce the first in a new series of limited edition 10″ vinyl releases, 'Architecture Dubs', which sees some of the most revered names of the mid 90s golden era of Drum & Bass deliver remixes of Suburban Architecture material in homage to that most innovative of periods.
First up is a titan of the scene – Peshay. Having released music on seminal labels including Bukem's Good Lookin Records, Goldie's Metalheadz, 4Hero's Reinforced and James Lavelle's Mo' Wax, Peshay made appearances on an unrivalled number of important imprints active during Drum & Bass's formative years. His remix of Suburban Architecture favourite 'Final Call' delivers lush pads, rousing vocals and smashing Amens that will please fans of his early work.
On the flip appears another legend with ties to one of the genre's most important labels: DJ Trax, a mainstay of the hugely influential Moving Shadow label and new incarnation Over/Shadow. Trax's remix takes Suburban Architecture b-side stepper 'Cubic Nature' and gives it a drum focused work out that exemplifies Trax's thoughtful and meticulously executed drum programming to a tee.
Pressed on 10″ vinyl and housed in brown Kraft paper sleeves, the series makes visual reference to the exclusive dubplate pressings which introduced so many classic cuts to the UK's dancefloors in the 90s.
Tracklist:
A. Final Call (Peshay Remix)
B. Cubic Nature (DJ Trax Remix)