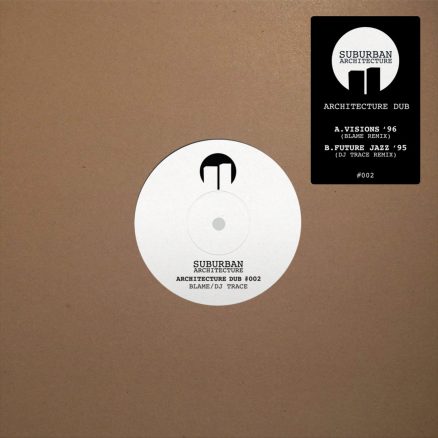 Available Now Bandcamp
Suburban Architecture – Architecture Dub #002 (Blame / DJ Trace)
Release date:

2023-09-29

Label:

Suburban Architecture

Catalog #:

DUBARC002
Suburban Architecture are pleased to announce the second in their 'Architecture Dubs' series of limited edition 10″ vinyl releases, which sees some of the most revered names active during the mid 90s golden era of Drum & Bass deliver remixes of Suburban Architecture material in homage to that most innovative of periods.
Following on from the now sold out release of Architecture Dub #001 (featuring remixes from Peshay and DJ Trax), #002 delivers new remixes from two further legends of the scene, Blame and DJ Trace.
Blame has enjoyed a storied career in the genre, having released extensively on two of the most highly regarded 90s imprints, Moving Shadow and LTJ Bukem's Good Looking Records, before establishing his own imprint 720 Degrees. For this release Blame tackles 'Visions '96', a favourite from Suburban Architecture's now highly collectible debut EP, 'Visions', introducing a jazzy bass groove, rousing vocals and energising breakdowns to the Jazz Fusion sonics of the original.
DJ Trace is another name who needs little introduction. With seminal releases on highly regarded underground labels Lucky Spin and Dee Jay Recordings among others, Trace's work joins the dots between early Hardcore, mid 90s Intelligence and the darker sounds of the late 90s. His remix of 'Future Jazz '95' is a stripped back, stepping rework that will please fans of his classic tracks 'After Hours' and 'Miles High'.
Pressed on 10″ vinyl and housed in brown Kraft paper sleeves, the series makes visual reference to the exclusive dubplate pressings which introduced so many classic cuts to the UK's dancefloors in the 90s.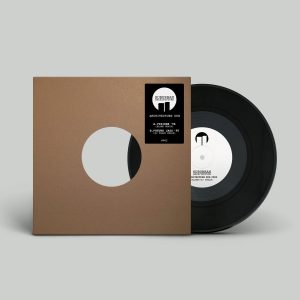 Tracklist:
A. Visions '96 (Blame Remix)
B. Future Jazz '95 (DJ Trace Remix)