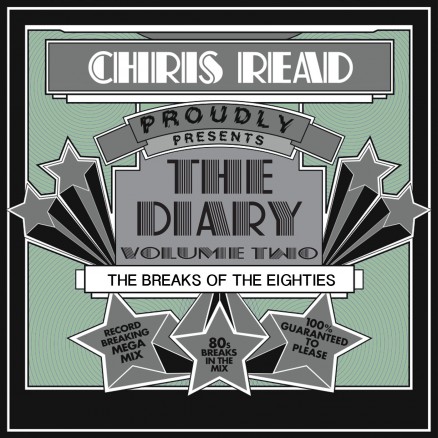 Available now Mixcloud
The Diary Volume 2 'The Breaks of the 80s'
Release date:

2019-01-30

Label:

Music of Substance
Mixcloud chart positions: Mixcloud Funk chart: #1 / Mixcloud Soul chart: #1 / Mixcloud Jazz chart: #2 / Mixcloud Hip Hop chart: #4
A little over 10 years ago I put out a mixtape called 'The Diary', by far the most ambitious mix I'd ever attempted – 801 iconic Hip Hop tracks in order of release from 1979 to 2009 in an 80 minute mix. It took literally years to put together and created enough buzz when it came out to set in motion a minor obsession with chronologically arranged mixes, the main result of which was a series called Classic Material, a set of 16 mixes each containing music from a specific year in Hip Hop history (in date order of course).
Volume Two, takes the concept a level deeper, this time reconstructing classics from Hip Hop's first decade from their constituent sample material. Arranged chronologically of course, this mix reassembles popular Hip Hop tunes from 1979 to 1989 utilising only the Funk, Soul, Rock and Jazz tracks from which they were originally composed. Close to 200 tracks appear.
Original cover artwork by John Brotherhood in tribute to the late Buddy Esquire.
Tracklist:
1. Chris Read – Theme #3 (Intro)
2. A Taste of Honey – Rescue Me (Interpolated by Funky 4+1 – That's The Joint) (1980)
3. 7th Wonder – Daisy Lady (Interpolated by Sugarhill Gang – 8th Wonder) (1981)
4. Sugarhill Gang – 8th Wonder (Sampled by Grandmaster Flash & The Furious Five – The Adventures of Grandmaster Flash on the Wheels of Steel) (1981)
5. Spoonie Gee & The Sequence – Monster Jam (Sampled by Grandmaster Flash & The Furious Five – The Adventures of Grandmaster Flash on the Wheels of Steel) (1981)
6. Blondie – Rapture (Sampled by Grandmaster Flash & The Furious Five – The Adventures of Grandmaster Flash on the Wheels of Steel) (1981)
7. Chic – Good Times (Sampled by Grandmaster Flash & The Furious Five – The Adventures of Grandmaster Flash on the Wheels of Steel) (1981)
8. Incredible Bongo Band – Apache (Sampled by Grandmaster Flash & The Furious Five – The Adventures of Grandmaster Flash on the Wheels of Steel) (1981)
9. Queen – Another One Bites the Dust (Sampled by Grandmaster Flash & The Furious Five – The Adventures of Grandmaster Flash on the Wheels of Steel) (1981)
10. Grandmaster Flash & The Furious Five – Freedom (Sampled by Grandmaster Flash & The Furious Five – The Adventures of Grandmaster Flash on the Wheels of Steel) (1981)
11. Kraftwerk – Trans Europe Express (Sampled by Afrika Bambaataa & Soulsonic Force – Planet Rock) (1982)
12. Tom Tom Club  – Genius of Love (Interpolated by Dr Jeckyll & Mr Hyde – Genius Rap) (1981)
13. Taana Garnder – Heartbeat (Interpolated by Treacherous Three – Feel the Heartbeat) (1981)
14. Gwen McCrae – Funky Sensation (Interpolated by Afrika Bambaataa & Jazzy 5 – Jazzy Sensation) (1981)
15. Billy Squier – The Big Beat (Sampled by Cold Crush Brothers – And It's Us) (1981)
16. AC/DC – Flick the Switch (Sampled by LL Cool J – Rock the Bells) (1985)
17. Liquid Liquid – Cavern (Interpolated in Grandmaster Melle Mel – White Lines (Don't Do It)) (1983)
18. Kurtis Blow – Do the Do (Sampled in Double Dee & Steinski – Lesson 2 (The James Brown Mix)) (1985)
19. James Brown – It's A New Day So Let A Man Come In And Do the Popcorn (Sampled in Double Dee & Steinski – Lesson 2 (The James Brown Mix)) (1985)
20. James Brown – Get Up (I Feel Like Being) A Sex Machine (Sampled in Double Dee & Steinski – Lesson 2 (The James Brown Mix)) (1985)
21. James Brown – Say It Loud, I'm Black and I'm Proud (Sampled in Double Dee & Steinski – Lesson 2 (The James Brown Mix)) (1985)
22. James Brown – Mother Popcorn (Sampled in Double Dee & Steinski – Lesson 2 (The James Brown Mix)) (1985)
23. Junior – Mama Used to Say (Sampled in Double Dee & Steinski – Lesson 2 (The James Brown Mix)) (1985)
24. The B-Boys – Rock The House (Sampled in Double Dee & Steinski – Lesson 2 (The James Brown Mix)) (1985)
25. Rufus Thomas – Itch and Scratch (Sampled in Double Dee & Steinski – Lesson 2 (The James Brown Mix)) (1985)
26. Sly & The Family Stone – Dance to the Music (Sampled in Double Dee & Steinski – Lesson 2 (The James Brown Mix)) (1985)
27. Double Dee & Steinski – Lesson 2 (The James Brown Mix) (Sampled in Danny Krivit – Feelin' James) (1987)
28. Geoffrey Sumner – Train Sequence (Sampled by Eric B & Rakim – Paid In Full (Seven Minutes Of Madness – The Cold Cut Remix)) (1987)
29. Fancy – Feel Good (Sampled by Eric B & Rakim – Move The Crowd (Beatmix by the Democratic 3 feat. DJ Slack)) (1987)
30. Beatles – Hey Jude (Interpolated by BDP – Criminal Minded) (1987)
31. Trouble Funk – Let's Get Small (Sampled by BDP – Criminal Minded) (1987)
32. Yellowman – Zungguzungguzungguzeng (Sampled by BDP – Remix for P Is Free) (1987)
33. Funkadelic – Good Ole Music (Sampled by Jungle Brothers – Jimbrowski) (1987)
34. Jimmie Walker – The Black Prince Has Arrived (Sampled by Jungle Brothers – Jimbrowski) (1987)
35. Barry White – I'm Gonna Love You Just A Little Bit More (Sampled by Eric B & Rakim – Move The Crowd (Beatmix by the Democratic 3 feat. DJ Slack)) (1987)
36. Little Richard – Tutti Frutti (Sampled by Eric B & Rakim – Move The Crowd (Beatmix by the Democratic 3 feat. DJ Slack)) (1987)
37. Chocolate Milk – Action Speaks Louder Than Words (Sampled by Eric B & Rakim – Move The Crowd (Beatmix by the Democratic 3 feat. DJ Slack)) (1987)
38. Rammelzee & K Rob – Beat Bop (Sampled by Eric B & Rakim – Move The Crowd (Beatmix by the Democratic 3 feat. DJ Slack)) (1987)
39. Dennis Edwards – Don't Look Any Further (Sampled by Eric B & Rakim – Paid In Full) (1987)
40. Ofra Haza – Im In'Alu (Sampled by Eric B & Rakim – Paid In Full (Seven Minutes Of Madness – The Cold Cut Remix)) (1987)
41. James Brown – Hot Pants (Sampled by Eric B & Rakim – Paid In Full (Seven Minutes Of Madness – The Cold Cut Remix)) (1987)
42. Fausto Papetti – Love's Theme (Sampled by Eric B & Rakim – As The Rhyme Goes On) (1987)
43. Genesis – Tonight, Tonight, Tonight (Sampled by Eric B & Rakim – As The Rhyme Goes On (Pumpin' The Turbo – Chad Jay In Effect)) (1987)
44. Freda Payne – Unhooked Generation (Sampled by Eric B & Rakim – As The Rhyme Goes On (Pumpin' The Turbo – Chad Jay In Effect) and JVC Force – Strong Island) (1987)
45. Lyn Collins – We Want To Parrty, Parrty, Parrty (Sampled by Eric B & Rakim – Paid In Full (Seven Minutes Of Madness – The Cold Cut Remix)) (1987)
46. Manzell – Midnight Theme (Sampled by Eric B & Rakim – Move The Crowd (Beatmix by the Democratic 3 feat. DJ Slack)) (1987)
47. James Brown – Talkin' Loud And Sayin' Nothin' (Sampled by Run DMC – Beats To The Rhyme) (1987)
48. Bob James – Nautilus (Sampled by Run DMC – Beats To The Rhyme) (1987)
49. Funkadelic – You'll Like It Too (Sampled by Eric B & Rakim – I Know You Got Soul) (1987)
50. The Jackson  5 – I Want You Back (Sampled by Eric B & Rakim – I Know You Got Soul (Double Trouble Remix)) (1987)
51. Kool & The Gang – Funky Stuff (Sampled by Eric B & Rakim – I Know You Got Soul (Double Trouble Remix)) (1987)
52. Bobby Byrd – I Know You Got Soul (Sampled by Eric B & Rakim – I Know You Got Soul) (1987)
53. Bobby Byrd – I'm Coming (Hot Pants) (Sampled by Big Daddy Kane – Raw) (1987)
54. The JBs – The Grunt (Part 1) (Sampled Public Enemy – Rebel Without A Pause) (1987)
55. The Soul Children – I Don't Know What This World Is Coming To (Sampled Public Enemy – Rebel Without A Pause) (1987)
56. James Brown – Get Up Offa That Thing (Sampled Public Enemy – Rebel Without A Pause) (1987)
57. Esther Williams – Last Night Changed It All (Interpolated by BDP – Super Hoe) (1987)
58. James Brown – Don't Tell It (Sampled by BDP – Poetry) (1987)
59. Captain Sky – Super Sporm (Sampled by BDP – Super Hoe) (1987)
60. Bar Kays – Son Of Shaft (Sampled by Bomb The Bass – Beat Dis) (1987)
61. Heatwave – The Groove Line (Interpolated by Public Enemy – Sophisticated Bitch) (1987)
62. First Choice – Love Thang (Sampled by BDP – Word From Our Sponsor) (1987)
63. Fred Wesley & The JBs – Blow Your Head (Sampled by Public Enemy – Public Enemy Number One) (1987)
64. Steve Miller Band – Fly Like An Eagle (Sampled by Biz Markie – Nobody Beats The Biz) (1987)
65. Roxanne Shante & Biz Markie – Def Fresh Crew (Sampled by Biz Markie – Nobody Beats The Biz) (1987)
66. James Brown – Sex Machine (Live) (Sampled by Biz Markie – Nobody Beats The Biz) (1987)
67. Lafayette Afro Rock Band – Hihache (Sampled by Biz Markie – Nobody Beats The Biz) (1987)
68. Pink Floyd – The Happiest Days Of Our Lives (Sampled by EPMD – It's My Thing) (1987)
69. The Whole Darn Family – Seven Minutes Of Funk (Sampled by EPMD – It's My Thing) (1987)
70. Marva Whitney – It's My Thing (Sampled by EPMD – It's My Thing) (1987)
71. Parliament – Prelude (Sampled by Eazy E – Still Talkin') (1988)
72. The Temptations – Ball Of Confusion (Interpolated by Eazy E – Eazy Duz It) (1988)
73. Rufus Thomas – Sixty Minute Man (Sampled by Eazy E – Nobody Move) (1988)
74. Yellowman – Nobody Move, Nobody Get Hurt (Sampled by Eazy E – Nobody Move) (1988)
75. The Niteliters – Afro Strut (Sampled by 7A3 – Hit 'Em Again) (1988)
76. Average White Band – Schoolboy Crush (Sampled by Eric B & Rakim – Microphone Fiend) (1988)
77. Joeski Love – Pee Wee's Dance (Sampled by EPMD – The Steve Martin) (1988)
78. Otis Redding – Let Me Come On Home (Sampled by EPMD – The Steve Martin) (1988)
79. Black Heat – Zimba Ku (Sampled by Biz Markie – Return Of The Biz Dance) (1988)
80. James Brown – The Boss (Sampled by Ultramagnetic MCs – Ego Trippin') (1988)
81. Melvin Bliss – Synthetic Substitution (Sampled by Ultramagnetic MCs – Ego Trippin') (1988)
82. Isaac Hayes – Hyperbolicsyllabicsesquedalmistic (Sampled by Public Enemy – Black Steel In The Hour Of Chaos) (1988)
83. Joe Tex – Papa Was Too (Sampled by EPMD – Jane) (1988)
84. Rick James – Mary Jane (Sampled by EPMD – Jane) (1988)
85. Jean Knight – Mr Big Stuff (Sampled by Eazy E – Boyz N The Hood) (1988)
86. Charles Wright – Express Yourself (Sampled by NWA – Express Yourself) (1988)
87. Roy Ayers – The Boogie Back (Sampled by NWA – Fuck The Police) (1988)
88. Eric Clapton – I Shot The Sheriff (Sampled by EPMD – Strictly Business) (1988)
89. Beastie Boys – Slow And Low (Sampled by EPMD – Let The Funk Flow) (1988)
90. JBs – (It's Not The Express) It's The JBs Monaurail (Sampled by EPMD – Let The Funk Flow) (1988)
91. Stanley Turrentine – Sister Sanctified (Sampled by BDP – The Philosopher) (1988)
92. The International Lutheran Laymen's League – The Philosopher (Sampled by BDP – The Philosopher) (1988)
93. Otis Redding – Hard To Handle (Sampled by Marley Marl featuring The Juice Crew – The Symphony) (1988)
94. Billy Preston – Will It Go Round In Circles (Sampled by Stetsasonic – This Is It, Y'all (Go Stetsa II)) (1988)
95. James Brown – Funky Drummer (Sampled by Kev E Kev & Ak B – Listen To The Man) (1988)
96. The Emotions – Blind Alley (Sampled by Big Daddy Kane – Ain't No Half Steppin') (1988)
97. ESG – UFO (Sampled by Big Daddy Kane – Ain't No Half Steppin') (1988)
98. Heatwave – Ain't No Half Steppin' (Sampled by Big Daddy Kane – Ain't No Half Steppin') (1988)
99. Sly And The Family Stone – You Can Make It If You Try (Sampled by Jungle Brothers – Because I Got It Like That) (1988)
100. James Brown – Ants In My Pants (Sampled by Public Enemy – Don't Believe The Hype) (1988)
101. James Brown – Escapism (Sampled by Public Enemy – Don't Believe The Hype) (1988)
102. Lyn Collins – We Want To Parrty, Parrty, Parrty (Sampled by Cash Money And Marvellous – Mighty Hard Rocker) (1988)
103. Jimmy Bo Horne – Dance Across The Floor (Sampled by Cash Money And Marvellous – Mighty Hard Rocker) (1988)
104. Funkadelic – Get Off That Ass And Jam (Sampled by Cash Money And Marvellous – Mighty Hard Rocker) (1988)
105. All The People featuring Robert Moore – Cramp Your Style (Sampled by BDP – Still Number One) (1988)
106. Lonnie Liston Smith – Expansions (Sampled by Stetsasonic – Talkin' All That Jazz)Pink Floyd – 'Time' (Sampled in 3rd Bass – 'Steppin to the A.M') (1989)
107. Gary Wright – Dream Weaver (Sampled in 3rd Bass – 'Wordz of Wisdom') (1989)
108. M.F.S.B – Zack's Fanfare (Sampled in Black, Rock & Ron's – 'Stop The World') (1989)
109. Yvonne Fair – Let Your Hair Down (Sampled in Biz Markie – 'Check It Out') (1989)
110. 8th Day – She's Not Just Another Woman (Sampled in Biz Markie – 'She's Not Just Another Woman (Monique)) (1989)
111. Player – Baby Come Back (Sampled in Biz Markie – 'Things Get a Little Easier') (1989)
112. The Eagles – Those Shoes (Sampled in Beastie Boys – 'High Plains Drifter') (1989)
113. Alice Cooper – It's Hot Tonight (Sampled in Beastie Boys – 'What Comes Around') (1989)
114. Incredible Bongo Band – Last Bongo In Belgium (Sampled in Beastie Boys – 'Looking Down the Barrel of a Gun') (1989)
115. Detroit Emeralds – Baby Let Me Take You (In My Arms) (Sampled in De La Soul – 'Say No Go') (1989)
116. Eric Burdon & War – Magic Mountain (Sampled in De La Soul – 'Potholes in My Lawn') (1989)
117. Edwin Starr – Easin In (Sampled in Tone Loc – 'Loc'ed After Dark') (1989)
118. Sly & The Family Stone – Poet (Sampled in De La Soul – 'Description') (1989)
119. Eric B & Rakim – I Ain't No Joke (Sampled in Gang Starr – 'DJ Premier in Deep Concentration') (1989)
120. Kool & The Gang – Summer Madness (Sampled in Gang Starr – 'DJ Premier in Deep Concentration') (1989)
121. Double Trouble – Stoop Rap (Sampled in Gang Starr – 'DJ Premier in Deep Concentration') (1989)
122. The Meters – Hand Clapping Song (Sampled in Gang Starr – 'DJ Premier in Deep Concentration') (1989)
123. Billy Stewart – Summer Time (Sampled in Gang Starr – 'DJ Premier in Deep Concentration') (1989)
124. Ben E King – What Is Soul (Sampled in Stereo MCs – 'What Is Soul?') (1989)
125. Joe Cocker – Woman to Woman (Sampled in EPMD – 'Knick Knack Paddy Wack') (1989)
126. Melvin Bliss – Synthetic Substitution (Sampled in De La Soul – 'Potholes in My Lawn) (1989)
127. Brother Soul – Cookies (Sampled in De La Soul – 'Potholes in My Lawn') (1989)
128. James Brown – It's A New Day So Let A Man Come In And Do The Popcorn (Sampled in D.O.C – 'It's Funky Enough') (1989)
129. Foster Sylvers – Misdemeanor (Sampled in D.O.C – 'It's Funky Enough') (1989)
130. Charlie Parker & Miles Davis – A Night In Tunisia (Sampled in Gang Starr – 'Manifest') (1989)
131. James Brown – Bring It Up (Hipster's Avenue) (Sampled in Gang Starr – 'Manifest' (1989)
132. Baby Huey – Hard Times (Sampled in Chill Rob G – 'Ride The Rhythm') (1989)
133. Kool & The Gang – N.T (Sampled in Chill Rob G – 'Let Me Show You') (1989)
134. James Brown  – The Boss (Sampled in Chill Rob G – "Let Me Show You') (1989)
135. Average White Band feat Ben E King – Get It Up For Love (Sampled in Def Jef – God Made Me Funky') (1989)
136. Ripple – A Funky Song (Sampled in Def Jef – God Made Me Funky') (1989)
137. Funky 4 + 1 – Feel It (The Mexican) (Sampled in Def Jef – God Made Me Funky') (1989)
138. The Stylistics – People Make The World Go Round (Sampled in EPMD – 'It Wasn't Me It Was The Fame') (1989)
139. David Bowie – Fame (Sampled in EPMD – 'It Wasn't Me It Was The Fame') (1989)
140. David Bromberg – Sharon (Sampled in Beastie Boys – 'Johnny Ryall') (1989)
141. Afrika Bambaataa & James Brown – Unity Part 2 (Sampled in Beastie Boys – 'Shake Your Rump') (1989)
142. Ronnie Laws – Tell Me Something Good (Sampled in Beastie Boys – 'Shake Your Rump') (1989)
143. Donny Hathaway – Magnificent Century Band (Sampled in Beastie Boys – 'Johnny Ryall') (1989)
144. Desmond Dekker – 007 (Shanty Town) (Sampled in Special Ed – 'I'm The Magnificent') (1989)
145. Dave & Ansell Collins – Double Barrel (Sampled in Special Ed – 'I'm The Magnificent') (1989)
146. Lyn Collins – Think (About It) (Sampled in Special Ed – 'I'm The Magnificent') (1989)
147. Grover Washington Jr – Mister Magic (Sampled in Heavy D & The Boyz – 'You Ain't Heard Nuttin Yet') (1989)
148. Redd Holt Unlimited – I Shot the Sheriff (Sampled in BDP – 'Gimme Dat, (Woy)') (1989)
149. Soul II Soul – Fairplay (Sampled in EPMD – 'So Wat Cha Sayin') (1989)
150. B.T Express – If It Don't Turn You On (You Oughta Leave It Alone) (Sampled in EPMD – 'So Wat Cha Sayin') (1989)
151. Funkadelic – One Nation Under a Groove (Sampled in EPMD – 'So Wat Cha Sayin') (1989)
152. Public Enemy – Public Enemy No.1 (Sampled in EPMD – 'So Wat Cha Sayin') (1989)
153. Aretha Franklin – Rock Steady (Sampled in EPMD – 'I'm Housin') (1989)
154. EPMD – It's My Thing (Sampled in EPMD – 'I'm Housin') (1989)
155. The Meters – Sing A Simple Song (Sampled in 3rd Bass – 'Product of the Environment (Project Remix)' (1989)
156. Maceo & The Macks – Soul Power 74 (Sampled in 3rd Bass – 'Product of the Environment (Project Remix)) (1989)
157. LL Cool J – I'm Bad (Sampled in 3rd Bass – 'Product of the Environment (Project Remix)' (1989)
158. Lyn Collins – We Want to Parrty, Parrty, Party (Sampled in De La Soul – '3 is The Magic Number (Chad Jackson Remix)) (1989)
159. Tommy Roe – Dizzy (Sampled in De La Soul – '3 is The Magic Number (Chad Jackson Remix) (1989)
160. Sly Stone – Crossword Puzzle (Sampled in De La Soul – 'Say No Go' (1989)
161. The Emotions – Best of My Love (Sampled in De La Soul – 'Say No Go') (1989)
162. The Mad Lads – No Strings Attached (Sampled in De La Soul – 'Change In Speak') (1989)
163. The Emotions – I Like It (Sampled in 3rd Bass feat Zev Love X – 'Gas Face') (1989)
164. 20th Century Steel Band – Heaven & Hell (Sampled in 3rd Bass – 'Soul in the Hole') (1989)
165. Freedom – Get Up And Dance (Sampled in BDP – 'You Must Learn (Live From the Caucus Mountains Remix)) (1989)
165. L.T.D – (Every Time I Turn Around) Back In Love Again (Sampled in Gang Starr – 'Here Is the Proof' (1989)
166. Public Enemy – Night of the Living Baseheads (Sampled in Gang Starr – 'Here Is the Proof' (1989)
167. People's Choice – I Likes To Do It (Sampled in De La Soul – 'Tread Water') (1989)
168. Hall & Oates – I Can't Go For That (No Can Do) (Sampled in De La Soul – 'Say No Go' (1989)
169. Sly Stone – Crossword Puzzle (Sampled in De La Soul – 'Say No Go') (1989)
170. The Emotions – Best of My Love (Sampled in De La Soul – 'Say No Go') (1989)
171. Funkadelic – (Not Just) Knee Deep (Sampled in De La Soul – 'Me Myself and I' (1989)
172. Big John Hamilton – Big Bad John (Sampled in Big Daddy Kane – 'Warm It Up, Kane') (1989)
173. Bernard Hermann – The Murder (Sampled in Beastie Boys – 'Egg Man') (1989)